Embroidery: the art of needlework
hya hya.net 2018-01-10 22:01:08
Embroidery: the art of needlework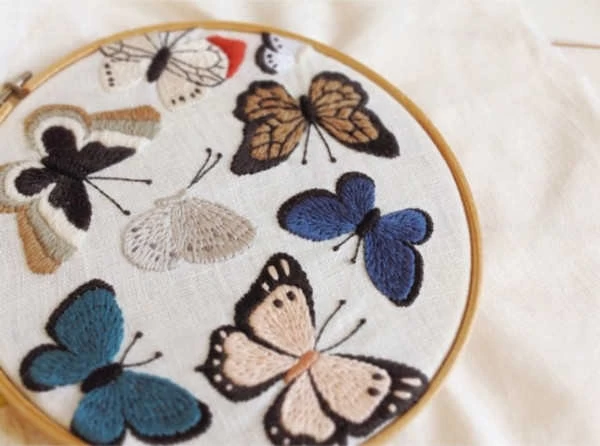 Embroidery is the general name of various decorative patterns embroidered on the fabric. Two kinds of embroidery are embroidered thread embroidery and feather embroidery. It is an ornamental fabric with thread or other fibers or other fibers and yarns to be punctured on the embroidered material with a certain pattern and color. It is an art that uses needles and lines to add human design and production to any fabric that exists.  Embroidery is one of the traditional Chinese folk arts and crafts, which has a history of at least two thousand or three thousand years in China.

Embroidery technology requirements are: smooth, neat, flat, uniform, clean. Shun is a line straight, round curve; Qi is a pointer stitch neatly, without edge stagger phenomenon; flat refers to gestures accurately, embroidery clothes, silk thread is not skew; uniform pointer distance, non disclosure, non overlapping; clean refers to the embroidery surface smooth, no ink stains.

Regional environment plays a great role in the formation and development of embroidery. Chinese famous embroidery embroidery, embroidery, embroidery, embroidery, embroidery, embroidery, embroidery and other Beijing, are born in the special geographical environment, and form a kind of unique embroidery.

Although Qinghai folk embroidery is not analogous to the professional embroidery in other areas, but because of the combination of plateau culture and Central Plains culture, the beauty of different styles is the same. The most important feature of the green embroidery is the primitive simplicity and the embroidery of the pieces, which seem to embody the ancient imprint.
The streamlined embroidery of heavy work has been popular in recent years, and it is convenient for modern urban life. This season you can see more embroidery designs appearing on overcoats, dresses and shoe tracks. Designers mainly use plane, double-sided and three-dimensional embroidery. In the decorative coat of choice, Alexander McQueen, Alberta Ferretti for solid grounding with flat embroidery embellishment; and the same is in the coat design, Fendi, Etro, Erdem, Gucci, Chlo, another Qidao, opened up a flashy way, they will be brought into the rich embroidery aristocratic wind, vintage retro and exotic folk style etc.. In the design of the dress, the designers prefer the exaggerated and dazzling effect that the stereoscopic embroidery brings in the formal occasion. Try adding embroidered elements in different styles, and maybe it will bring you more unexpected brilliance. Welcome to click China Mattress components factory  for more information.
Zhejiang Hya Industry Co.,Ltd
Tel:0086-13515755047
Contact Person:nancy chen